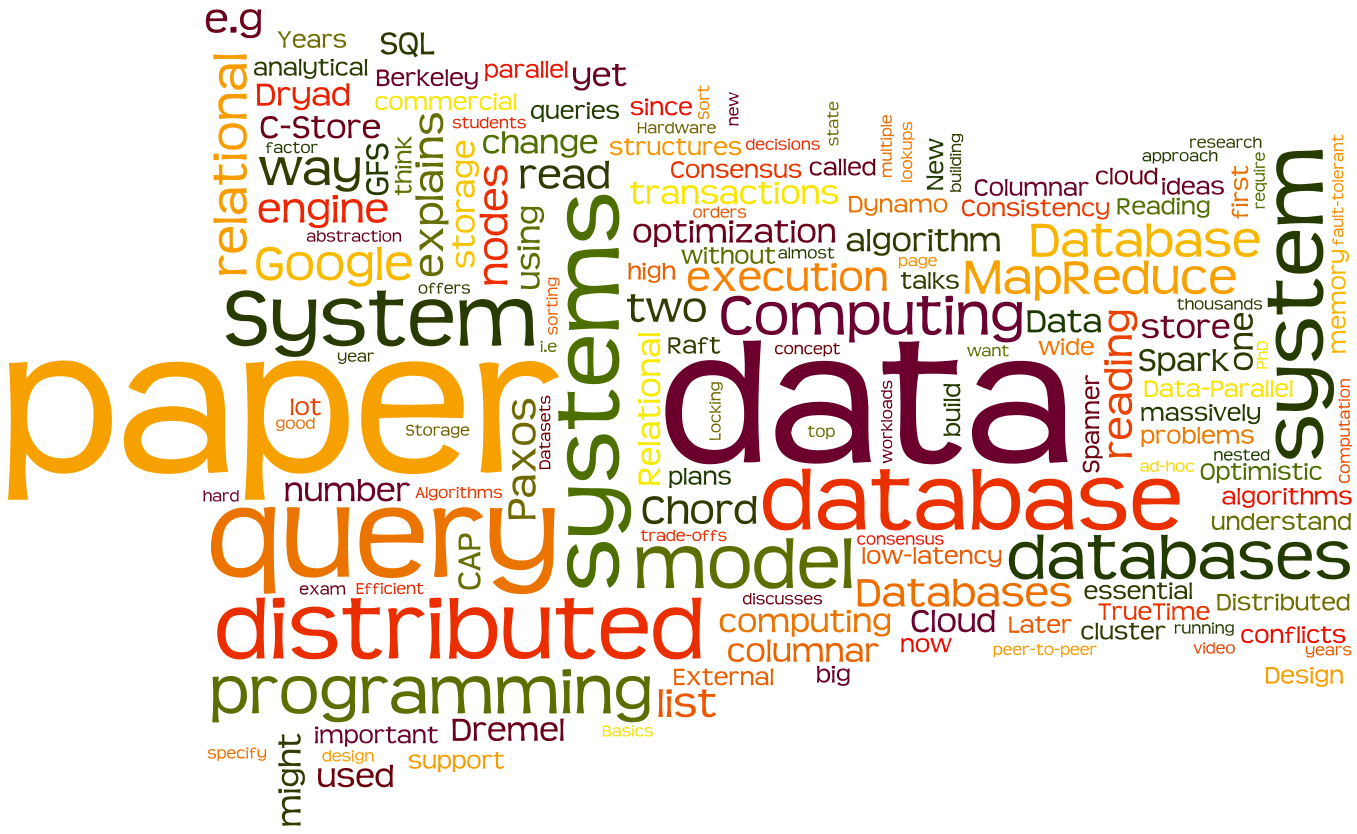 ---
Article Source
Readings in Databases
A list of papers essential to understanding databases and building new data systems. The list is curated and maintained by Reynold Xin (@rxin). If you think a paper should be part of this list, please submit a pull request. It might take a while since I need to go over the paper.
If you are reading this and taking the effort to understand these papers, we would love to talk to you about opportunities at Databricks.
The Five-Minute Rule Ten Years Later, and Other Computer Storage Rules of Thumb (1997): This paper (and the original one proposed 10 years earlier) illustrates a quantitative formula to calculate whether a data page should be cached in memory or not. It is a delight to read Jim Gray approach to an array of related problems, e.g. how big should a page size be.

AlphaSort: A Cache-Sensitive Parallel External Sort (1995): Sorting is one of the most essential algorithms in databases, as it is used to do joins, aggregations, and sorts. In algorithms 101 class, CS students are asked to reason about big O complexity and ignore the constant factor. In practice, however, the change in constant from L2 cache can be as big as two or three orders of magnitude. This is a good paper to learn about all the tricks fast sorting implementations use.

Patience is a Virtue: Revisiting Merge and Sort on Modern Processors (2014): Sorting revisited. Actually also a good survey on sorting algorithms used in practice and their trade-offs.
A History and Evaluation of System R (1981): There were System R from IBM and Ingres from Berkeley, two systems that showed relational database was feasible. This paper describes System R. It is impressive and scary to note that the internals of relational database systems in 2012 look a lot like System R in 1981.

The Google File System (2003) and Bigtable: A Distributed Storage System for Structured Data (2006): Two core components of Google's data infrastructure. GFS is an append-only distributed file system for large sequential reads (data-intensive applications). BigTable is high-performance distributed data store that builds on GFS. One way to think about it is that GFS is optimized for high throughput, and BigTable explains how to build a low-latency data store on top of GFS. Some of these might have been replaced by newer proprietary technologies internal to Google, but the ideas stand.

Chord: A Scalable Peer-to-peer Lookup Service for Internet Applications (2001) and Dynamo: Amazon's Highly Available Key-value Store (2007): Chord was born in the days when distributed hash tables was a hot research. It does one thing, and does it really well: how to look up the location of a key in a completely distributed setting (peer-to-peer) using consistent hashing. The Dynamo paper explains how to build a distributed key-value store using Chord. Note some design decisions change from Chord to Dynamo, e.g. finger table O(logN) vs O(N), because in Dynamo's case, Amazon has more control over nodes in a data center, while Chord assumes peer-to-peer nodes in wide area networks.
Columnar storage and column-oriented query engine are critical to analytical workloads, e.g. OLAP. It's been almost 15 years since it first came out (the MonetDB paper in 1999), and almost every commercial warehouse database has a columnar engine by now.
C-Store: A Column-oriented DBMS (2005) and The Vertica Analytic Database: C-Store 7 Years Later (2012): C-Store is an influential, academic system done by the folks in New England. Vertica is the commercial incarnation of C-Store.

Column-Stores vs. Row-Stores: How Different Are They Really? (2012): Discusses the importance of both the columnar storage and the query engine.

Dremel: Interactive Analysis of Web-Scale Datasets (2010): A jaw-dropping paper when Google published it. Dremel is a massively parallel analytical database used at Google for ad-hoc queries. The system runs on thousands of nodes to process terabytes of data in seconds. It applies columnar storage to complex, nested data structures. The paper talks a lot about the nested data structure support, and is a bit light on the details of the query execution. Note that a number of open source projects are claiming they are building "Dremel". The Dremel system achieves low-latency through massive parallelism and columnar storage, so the model doesn't necessarily make sense outside Google since very few companies in the world can afford thousands of nodes for ad-hoc queries.
Paxos Made Simple (2001): Paxos is a fault-tolerant distributed consensus protocol. It forms the basis of a wide variety of distributed systems. The idea is simple, but notoriously difficult to understand (perhaps due to the way the original Paxos paper was written).

The Raft Consensus Algorithm (2014) : Raft is a consensus algorithm designed as an alternative to Paxos. It was meant to be more understandable than Paxos by means of separation of logic, but it is also formally proven safe and offers some new features.[1] Raft offers a generic way to distribute a state machine across a cluster of computing systems, ensuring that each node in the cluster agrees upon the same series of state transitions.

CAP Twelve Years Later: How the "Rules" Have Changed (2012): The CAP theorem, proposed by Eric Brewer, asserts that any net­worked shared-data system can have only two of three desirable properties: Consistency, Availability, and Partition-Tolerance. A number of NoSQL stores reference CAP to justify their decision to sacrifice consistency. This is Eric Brewer's writeup on CAP in retrospective, explaining "'2 of 3' formulation was always misleading because it tended to oversimplify the tensions among properties."
A View of Cloud Computing (2010): This is THE paper on Cloud Computing. This paper discusses the economics and obstacles of cloud computing (referring to the elasticity of resources, not the consumer-facing "cloud") from a technical perspective. The obstacles presented in this paper will impact design decisions for systems running in the cloud.

The Datacenter as a Computer: An Introduction to the Design of Warehouse-Scale Machines: Google's Luiz André Barroso and Urs Hölzle explains the basics of data center hardware and software for warehouse-scale computing. There is an accompanying video. The video talks about the importance of cutting long-tail latency in massively parallel systems. The other key idea is the disaggregation of resources. Technologies such as GFS/HDFS already disaggregate disks because of high network bandwidth, but yet to see the same trend applying to DRAMs because that'd require low-latency networking.
Reflections on Trusting Trust (1984): Ken Thompson's Turing Award acceptance speech in 1984, describing black box backdoor issues and pointing out trust is not absolute.
A number of schools have their own reading lists for graduate students in databases.